Ack! Last Tuesday, we promised we would subject the grape vodka experiment to its final test that night. Well, we dropped the ball, and didn't get around to it until this weekend. Today we have preliminary results for our cantaloupe vodka, as well as the grape vodka's final disposition.

The cantaloupe vodka hasn't visibly changed much. The fruit appears to have puffed up slightly, but not nearly to the extent found in our pineapple vodka experiment. The vodka itself is slightly cloudy but uncolored.




After pouring the shots, I made sure to clear them of bad juju. (And solid bits of cantaloupe.)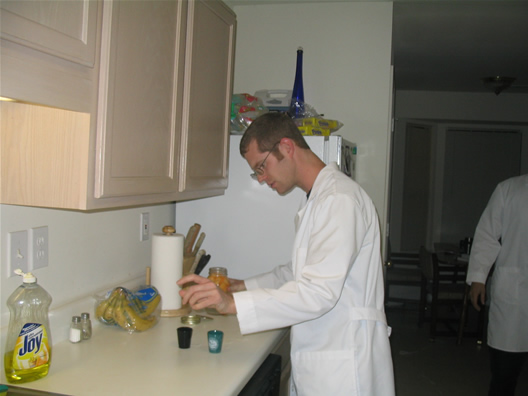 Since we had a photographer at our disposal, the Mad Scienticians sampled the vodka together:




The verdict: as we suspected, this infusion is going take longer than a week. It's further along than either of us expected, and has the potential to be quite tasty, but it needs more time.


---
The grape, on the other hand, has exhausted our patience. After the
previous test
, we decided that the next sampling would be the last, determining whether the grape vodka was destined for the bottle or for the drain. When it came time for this test, the appearance of the browning grapes themselves did not inspire a great deal of hope.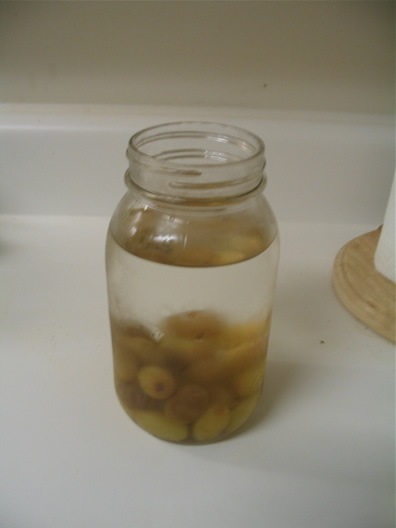 True to our word, however, we poured two shots and tasted them.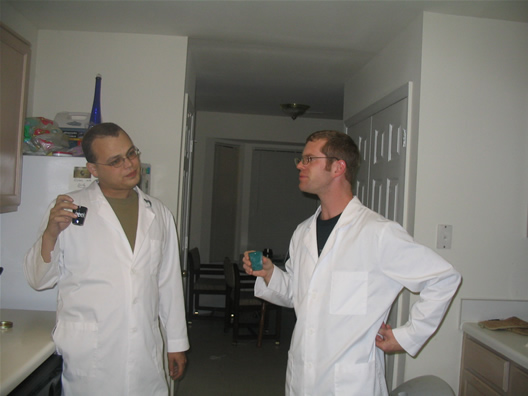 "Neutral all the way back," Wayland commented. As before, the vodka has only a hint of grape taste. It's not bad, but there's really nothing to this vodka.
We decided to keep it, but only as a backup to our unflavored baseline vodka (which we rarely use anymore). As such, we won't be posting any grape vodka cocktails. However, we may reevaluate our methodology and try a different grape experiment in the future.