Last night, the Mad Scienticians conducted the first sampling of our watermelon vodka infusion, as well as repeated samplings of the blueberry and almond vodkae. The watermelon vodka experiment had only been ongoing for three days, we expected it to be a fairly quick infusion. As we expected, the vodka has drawn very little color from the fruit.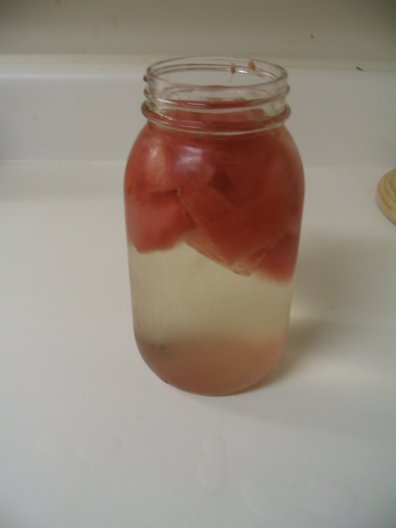 It turns out that the experiment will need more time than we had hoped. "It's got a watermelon flavor, but it's not strong enough," Wayland commented. "It's also got a bad aftertaste."

I didn't notice an aftertaste, other than the bite of the vodka. The watermelon is tasty on the front end, but it subsides quickly. We put this back to infuse for another week.


---
The
blueberry vodka
has progressed a great deal since our
previous sampling
. Once the berry skins were broken up, they began to truly infuse. The vodka now has a deep purple color.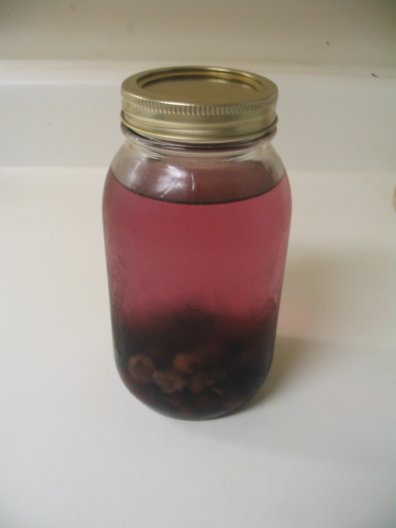 I found the blueberry flavor to be more pronounced, but it still had a strong vodka taste. Wayland said he hardly tasted any blueberry, and it was mostly vodka.
So, despite the strong coloration, this infusion still needs more time before the flavor is right.
---
The
almond vodka
, which has been running for four weeks now, has also attained a darker color than it had last week.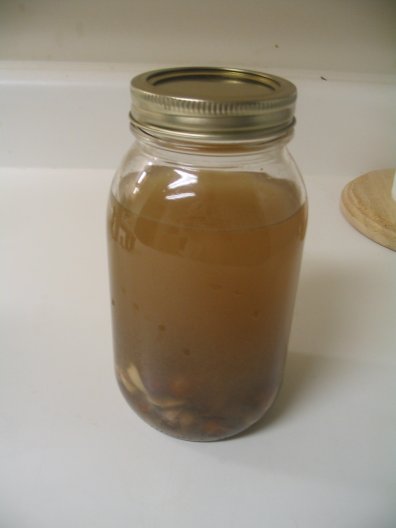 "More almondy, very smooth," said Wayland. "Still, I'd like to give it a little longer."
I concurred with Wayland. Its almond flavor has grown stronger, but not as much as we would like. Alas, this experiment too will remain ongoing. We have high hopes that this one will be completed next week, though.
---
Though all of the experiments we tested this week have been disappointments so far, we do have a cocktail recipe to make up for it, using the strawberry-vanilla vodka we completed last week.
Research Triangle Iced Tea
In a tall glass with ice, pour:
2 oz. Mad Scientician™
Strawberry-Vanilla vodka
One can (8.3 oz.) of Red Bull
This mix of flavors is oddly reminiscent of sweet iced tea, with a hint of strawberry. We named the drink in honor of our local area, the
Research Triangle
of North Carolina.
Brendan's score: 3 flasks out of 5
Wayland's score: 3 flasks out of 5
Overall score: