While attending Shore Leave, the Mad Scienticians bunked with the Vodka God. Naturally, the room was well stocked with various and sundry alcohols for the weekend, as we brought several of our vodka infusions, and Arthur made his world famous punch (the formula which inspired us to dabble in punchmaking ourselves). Unfortunately, such a high level of concentrated alconomics led to disaster, as our "bar" table reached critical mass and exploded. The Vodka God, being immortal, survived. Wayland and I once spent a few years as gods as well, but we have since retired; therefore, we were both killed painfully. This is why we haven't posted anything in two weeks.

It took us some time to determine how to access the internet from beyond the veil, but our persistence paid off. We finally acquired an authentic TopatoCo Steampunk Internet Ouija Board which is allowing our spirits to finally post. So, without further ado, we present the results of our Lemon-Lime Vodka experiment.




After six days of infusion, the vodka had attained a slightly green tinge, though not quite as much as our original lime vodka. Recall that our intent for this experiment was to create a light and sweet vodka reminiscent of Sprite or 7-Up. As such, we used the full zest of a lemon and a lime, but only two slices of each fruit. We also added two spoonfuls of sugar to sweeten it, with the intention to add more later if necessary.

Using all of our strength, we were able to exert enough of a physical existence to pour two shots of vodka and drink them.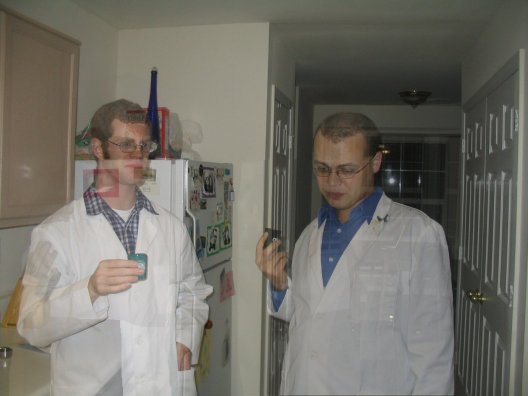 If a spirit drinks a spirit, does that make him a cannibal?

Using human blood on a mirror, I wrote that "due to the Shore Leave festivities (and our untimely deaths), we let this infusion run too long by at least a day, possibly two. The sourness of the fruits have overpowered the vodka, even though we used less of it. Perhaps if we strain it now and add more sugar to sweeten it more, it will be good."

Wayland's thoughts were hauntingly similar. "Too sour! Other than the overwhelming sourness, this is actually pretty smooth. The flavors are about right. If we could do something about the sour, we would be golden."

It is a little-known scientific fact that ectoplasm is mostly caramelized sucrose, so it was an easy task to add additional sugar to the vodka. We added the equivalent of two spoonfuls of sugar and tried it again. Unfortunately, it was not sufficient to salvage the experiment. The sourness remained, and Wayland commented that it may even be worse. (This is in line with what we learned in the Big Experiment, that sugar can intensify an infusion's natural flavors, making a good infusion great and a bad infusion worse.)

We will keep this vodka on hand for further experimentation, but ultimately, we are probably going to have to try this one again from scratch. Perhaps it would work better with zest only, and no "meat" of the fruit.