Chocolate vodka is something we've been wanting to create for a long time, but haven't quite been sure how to do it. For a long time, we intended to infuse cocoa beans in vodka, but they proved fiendishly difficult to find, and several of our readers have suggested that cocoa bean infused vodka wouldn't taste very good anyway, since the beans are bitter without sugar and vanilla additives. We also considered creating a solution, rather than an infusion, much like our caramel vodka, but never followed through with it.

Recently, however, our friend The Vodka God created his own chocolate vodka (see his initial post and the results). He created the chocolate solution by dissolving a confection known as Ice Cubes, which are apparently designed to melt under anything warmer than a sharp glance, into vodka. He likes the way it turned out, but we Mad Scienticians continue to wonder, could this work with a more "genuine" chocolate?

We decided to give it a try. We acquired a Lindt chocolate bar with an 85% cocoa content; we hope that the remaining 15% will contain just enough sugar, vanilla, and whatnot to prevent an overly bitter vodka, while giving it the richness of fine chocolate. If the vodka is too bitter on completion, we can always add some additional sugar. The real question, however, is whether the chocolate will dissolve at all; it is much richer and heavier than Ice Cubes or caramels.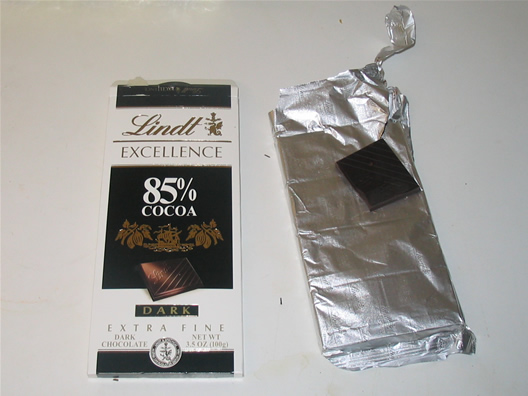 We sampled the chocolate bar in its natural form first. It is much less sweet than we are used to from chocolate; Wayland did not enjoy it at all, while I noticed a gradual build-up of sweetness with each bite.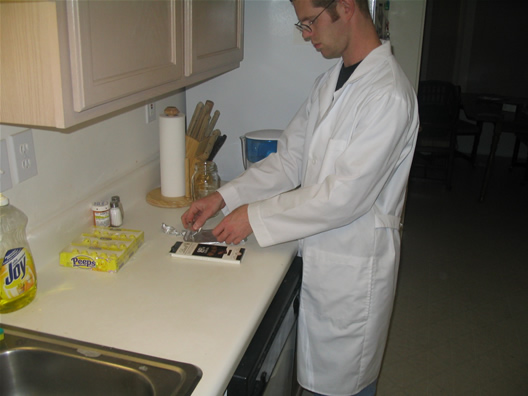 We broke the chocolate into small pieces, dividing each square into fourths. The more surface area is exposed, the faster it should dissolve.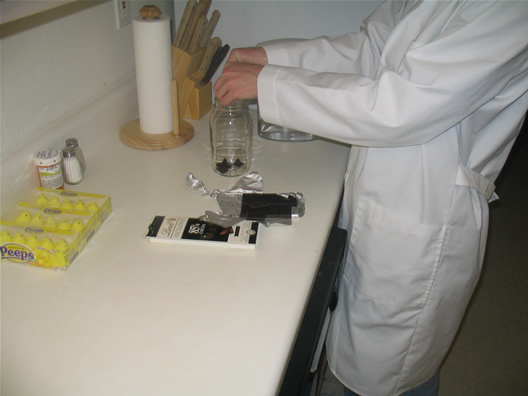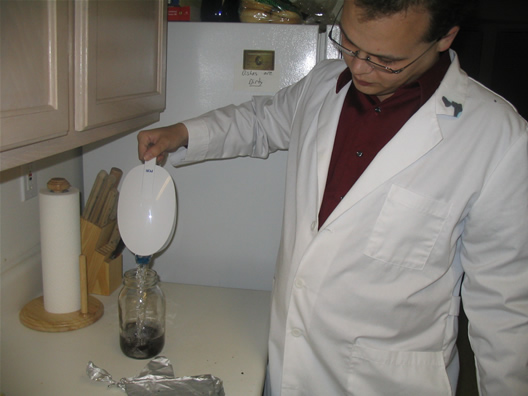 Once the vodka and chocolate were sealed in the jar, we shook the jar vigorously, and continued to do so periodically for the next few hours. This is what it looked like after approximately 2-3 hours:




It appears that the chocolate is dissolving, albeit slowly. This will certainly take longer than the caramel vodka or The Vodka God's experiment, but we hope to have a viable chocolate vodka by the weekend.

Tomorrow, we will be posting yet another status update on our coconut vodka experiment, and several repeat infusions.