Our research indicated that orange vodka should infuse for 3-4 days; we left it for five days, as we had a fairly busy weekend. We were mildly concerned that the final product would be a bit too strongly flavored, but our concerns proved unfounded.

The experiment attained a yellow color as it infused:




The Mad Scienticians removed the orange slices and strained the vodka through a coffee filter to remove the pulp. This took a very long time, for some reason. We've used this method with several other experiments without any issues, but with this one, the filter allowed less and less vodka through as it became saturated.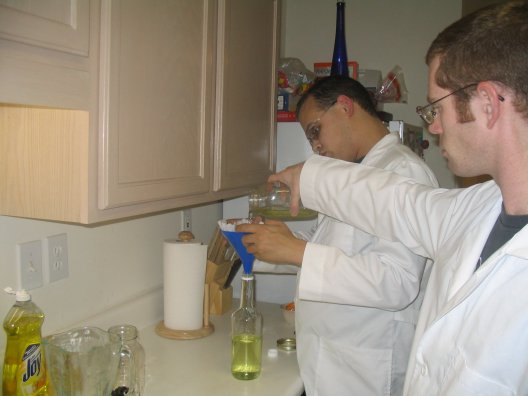 We changed filters several times throughout the process, and wound up pinching the last one closed like a tea bag and squeezing it out.

Yeah, we know what the vodka looks like. Shut up.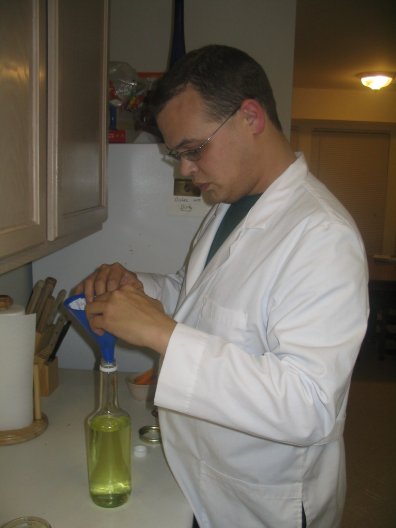 We keep saying that we're going to stop testing our infusions in shot form, but yet, we keep doing it. We can't seem to resist any opportunity to post our mugs contorted into embarrassing post-shot expressions.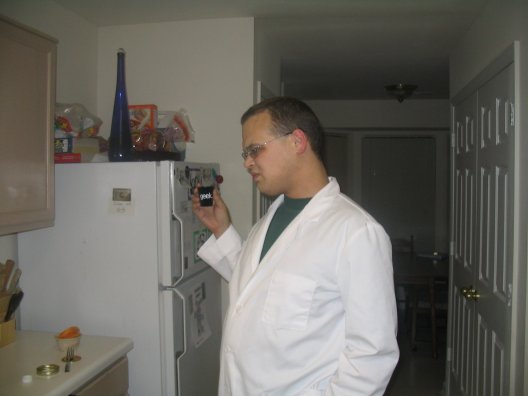 Wayland was not thrilled with the orange vodka as a shot, though he later decided it was due to a general feeling of malaise, rather than a reaction to the vodka.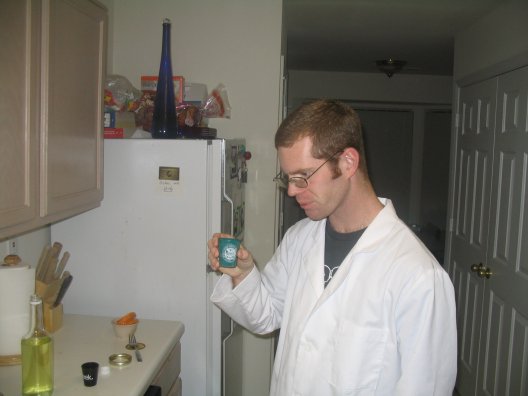 I thought it tasted pretty good, even as a shot. It does have a degree of pithy bitterness, as some of our readers suggested may happen, but it is not overwhelming. Perhaps next time we'll invest in an orange zester.

For the cocktail test, we decided to incorporate the infusion into a modified kamikaze.

Orange Kamikaze

Over ice, pour:
2 oz. Mad Scientician™ orange vodka
2 oz. Triple Sec
Splash of lime juice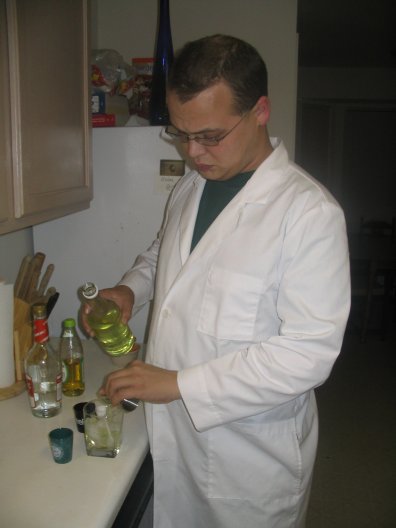 The orange vodka nicely complimented the citrus flavors of the Triple Sec and lime juice.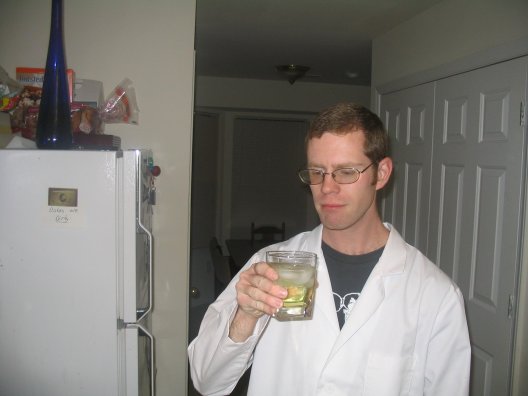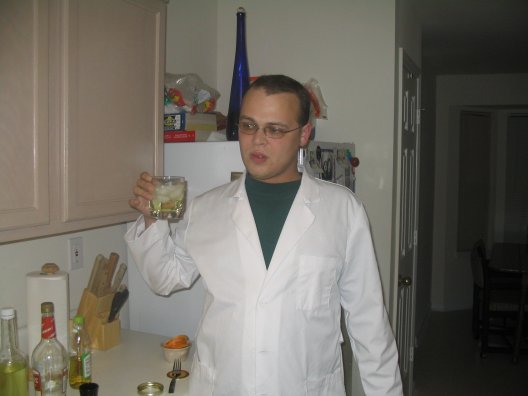 We found the orange vodka to be a great success. The orange kamikaze is possibly one of our best infusion drinks yet.

Brendan's score: 4.5 flasks out of 5
Wayland's score: 3.5 flasks out of 5
Overall score:



We also repeated the coffee vodka infusion this weekend, as we are nearly out of the first batch. Interesting that the experiment that got the most negative initial reaction has become our most popular.