Our pear infused vodka experiment is complete, but we have not been able to make time for a tasting as of yet. We'll have that ready very soon, but in the meantime, we have started another experiment: pepper vodka, or to be specific, peppercorn (black pepper) vodka. In the past, we have spiced up our vodka with jalapeños and even habaneros; this time, we decided to try the more traditional flavor of pepper vodka.

Peppercorns are wholly unrelated to chile peppers, and contain none of the capsaicin chemical that makes jalapeños and habaneros spicy. Instead, they contain the chemical piperine, which is about one-hundredth as pungent as capsaicin. Still, it has an impressive flavor and bite, so long as it is fresh. The flavor of peppercorn is greatly reduced by evaporation, which is why freshly ground pepper from a pepper mill is so much more flavorful than pre-ground pepper.

Wayland began by pouring a layer of peppercorns into a science jar. We didn't really measure them; we just put in enough to cover the bottom of the jar.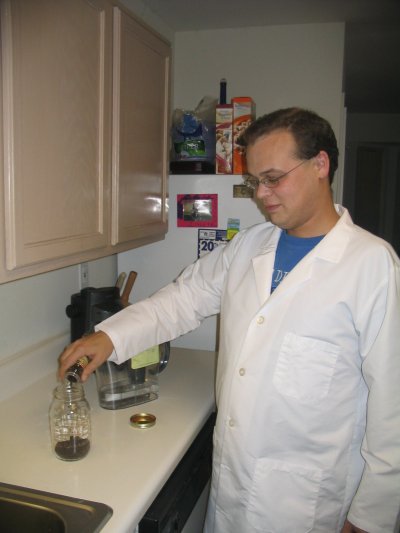 We had to remove the lid from the peppercorn bottle to get them out. We were amused that the lid was designed to shake them out, but none of the holes were large enough for a peppercorn to fit through them.




Most of the peppercorns remained at the bottom once vodka was added, though some of them floated and one lone wolf decided to hover somewhere in the middle.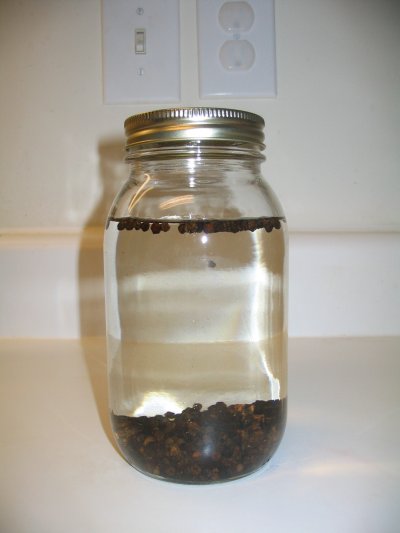 We don't expect this one to take particularly long. Stay tuned for the results of the pear vodka, to soon be followed by an update on the pepper experiment.