Our spiced cider vodka is coming along nicely, but in lieu of its completion, we have decided to do yet another holiday-inspired infusion experiment. Imagine if you will, a wintry land of magic, populated by an elven society. Much of the population is employed by their leader, an elderly, half-Inuit son of Robert Edwin Peary. This man is known by many names, but chances are you have heard of him as a certain Mr. Claus.

Mr. Claus single-handedly supports the elven economy through the distribution of toys and goodies each Christmas, but even he enjoys the finer things in life; he is especially fond of cookies and milk, but occasionally partakes of a beverage of the alcoholic variety. Though he has traditionally been a fan of egg nog and cider, he has learned, during the process of his yearly list-making, of two Mad Scienticians; two men who could craft for him a drink infused with the very spirit of Christmas. This is the story of our latest creation: Candy Cane Vodka.




For this experiment, we are creating three vodkae, each with a different flavor of candy cane. One will use the traditional peppermint candy cane; one will use a chocolate mint flavor; and a third will use cherry-flavored canes. Two candy canes will be dissolved in each.

Wayland struggles through the wrapping of the canes as he begins the experiment.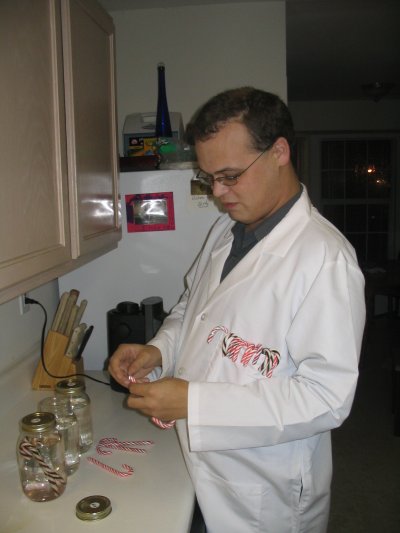 As with some of our previous experiments, this is a solution, not a true infusion. The candy canes will be fully dissolved in the vodka. Very soon after beginning the experiment, we could see the vodkae becoming cloudy as the candy canes began to dissolve.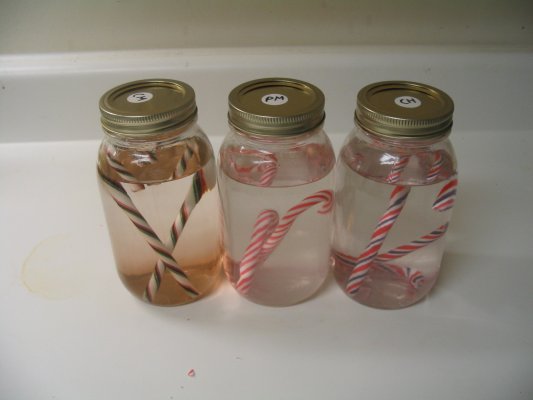 This will be a quick experiment, but you will have to wait until that most magical of nights, Christmas Eve, to see the results!