Back to the science lab again! This week, we've decided to make clove-infused vodka.

In our research into cloves, we found that cloves were used in the past for medicinal purposes for gastro-intestinal problems. So, maybe this will be the vodka that settles your stomach!

This is the first experiment of three we have embarked on to create spiced cider vodka. We decided we should attempt an infusion with each ingredient individually first, and we had all of the necessary infusions but two. The vodkae we already had were apple, orange, and cinnamon. And then we had to make two as of yet announced vodkae. Clove is the first. Stay tuned next week for the second, and then finally we'll ring in the month of December with a glass of holiday cheer with spiced cider vodka.

We obtained a brand new container of cloves, only to find we already had about 2/3rds of a jar left in our spice cabinet.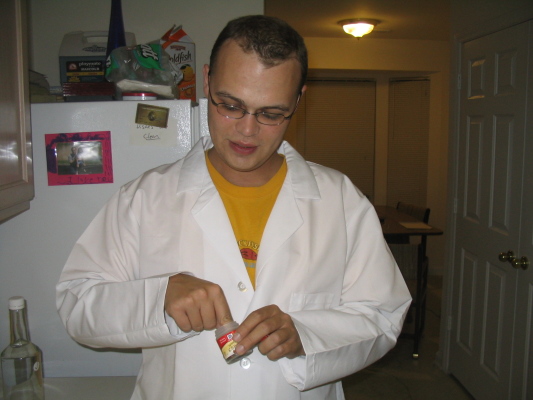 I took the tedious process of counting out 50 individual cloves, then poured the vodka on top of them.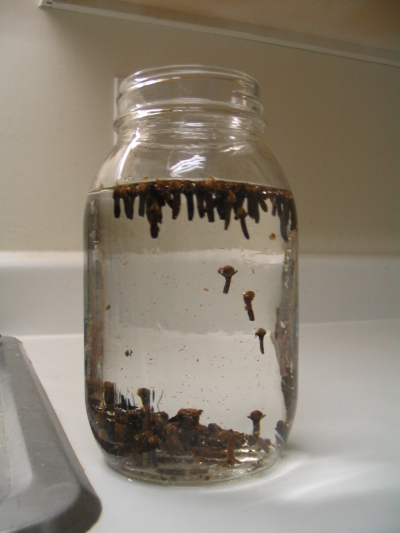 Dance, my little drowning cloves! Dance!

After a scant two days of infusing, we decided the vodka was ready to taste.

Brendan liked it, but felt it was missing something.

"This is rather tasty, though it feels incomplete. It has a pleasantly musky flavor with just a hint of spice. I think it will be excellent in the cider combo, though I wouldn't necessarily drink it on its own."

As for myself, I thought it was a damn good drink on its own.

"That's a beautiful taste. I almost think you could sit there and sip on this on the rocks. It's sweet with a distinctively clove warmness. It has a bit of an odd taste near the back end, but otherwise this is excellent."

So, not a perfect review, but we definitely both approve. Stay tuned next week for the final ingredient, before embarking on spiced cider vodka.