Cucumber is an idea which has come up a number of times when Wayland and I have discussed possible vodka infusions, and several of our readers have also mentioned it in comments and e-mails. For a long time, however, we put the thought on the back burner, thinking that the mild flavor of cucumber may not come through as easily as many of our other vodka flavors.

Eventually, we discovered a cocktail which made us rethink the role of cucumber, as it pertains to vodka: the Metropolis, courtesy of Svedka Vodka. (Warning: this website involves sound, and is also annoying in myriad other ways. The drink we're referring to is the first to appear under "future cocktails.") We were intrigued by this unusual-sounding drink, which involves muddled cucumber slices, vodka, sour mix and a splash of vanilla vodka, and determined to try it out. It was, in fact, very refreshing and tasty; we wondered if it could be improved by an actual cucumber infused vodka, and what other creations such a vodka could inspire.

Wayland began the experiment by slicing a cucumber, then cutting each slice into quarters to increase its surface area. We then cut off the skin, to prevent bitterness.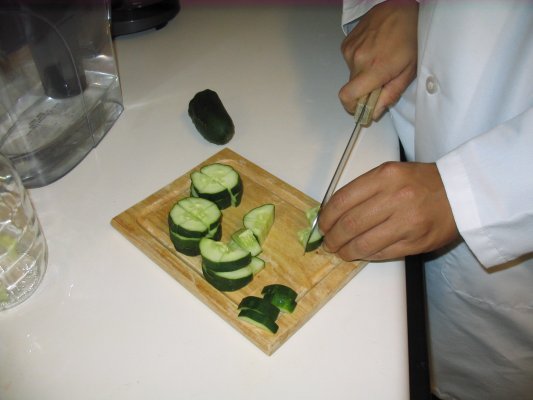 We sliced away the skin using a straight cut from corner to corner, resulting in small, triangular wedges. This was a time efficient method, though as my calculations determined, we discarded more than a third of the cucumber this way: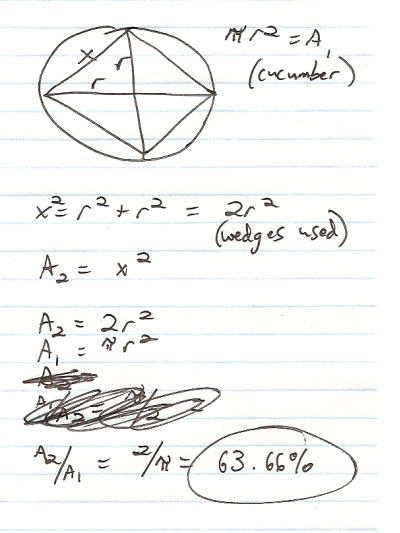 Sadly, this is not the first time we have used algebra and alcohol in conjunction.

Since cucumber is, as we said, a fairly mild flavor, we're estimating that this infusion will take at least three weeks. We will update with its status after the first tasting. Meanwhile, stay tuned for the results of our notorious bacon infused vodka, coming later this week.